The Kardashians' hairstylist says to add this *one* thing to your shower for silkier hair
It wasn't what we were expecting…
Cosmopolitan features Vitaclean written by CASSIE POWNEY | April 2020


Just when you think you've heard all the healthy hair hacks under the sun.
Like how to avoid air-drying because it causes the hair fiber to crack and swell (yes, really). Why finding the right shampoo for fine locks is so important, and how looking after your scalp can lead to it looking a hell of a lot healthier.
But have you ever considered investing in a shower attachment? Yep, that's right, something you literally attach to your shower head in order to get healthier-looking hair?
Us neither, but we're all ears considering the amount of showers we've been taking recently.
Justine Marjan, who frequently works with the Kardashians (among other A-list stars), swears by something called the Vitaclean Vitamin C Aromatherapy Filtered Showerhead, a shower head attachment that claims to remove water impurities and toxins from your shower water to "restore skin and hair to their natural lustre." She posted multiple Insta stories about it, telling her followers: "It dechlorinizes water, infuses the shower with aromatherapy, conserves water, and balances water pressure."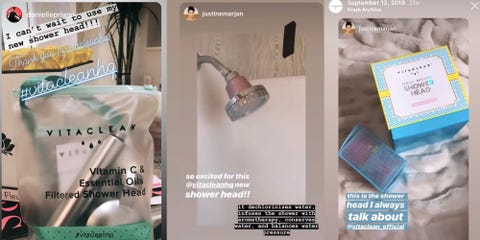 Danielle Priano is another fan (she's earned her celebrity-hair-stylist badge with a client list including Ariana Grande, J-Lo, Chrissy Teigen, Hailey Bieber, Vanessa Hudgens and the Hadid sisters).
The shower head comes in a variety of scents - citrus, Jasmine, Coconut & Vanilla - so you can turn your morning shower into a spa experience. We're always up for that.